U.S. Voices Support for ASEAN's Five-Point Consensus for Myanmar 
AKP Phnom Penh, January 12, 2022 --
The U.S. Embassy in Cambodia has expressed support for the five-point consensus for Myanmar, reached by the ASEAN leaders in April last year and urged the Special Envoy of the ASEAN Chair on Myanmar to meet all stakeholders.
"We support the ASEAN Five-Point Consensus and urge Cambodia, as the 2022 ASEAN Chair, to continue to press for implementation of the Five Points and to ensure that any visit by the ASEAN Special Envoy includes meeting with all parties concerned. We reiterate our call for the Burmese military regime to end the use of violence, release all those unjustly detained, and engage in constructive dialogue with all parties that respects the will of the people of Burma," U.S. Embassy Spokesperson, Mr. Chad Roedemeier, was quoted as saying by EAC News.
The five-point consensus on Myanmar crisis comprises: 1. There shall be immediate cessation of violence in Myanmar and all parties shall exercise utmost restraint. 2. Constructive dialogue among all parties concerned shall commence to seek a peaceful solution in the interests of the people. 3. A special envoy of the ASEAN Chair shall facilitate mediation of the dialogue process, with the assistance of the Secretary-General of ASEAN. 4. ASEAN shall provide humanitarian assistance through the AHA Centre. 5. The special envoy and delegation shall visit Myanmar to meet with all parties concerned.
At the inauguration ceremony of the Battambang-Serey Sophorn road portion held in Battambang province on Jan. 10, Samdech Akka Moha Sena Padei Techo Hun Sen, Prime Minister of the Kingdom of Cambodia and 2022 ASEAN Chair, emphasised two important implementing mechanisms to ensure the ceasefire and humanitarian assistance to the people in need without discrimination, in order to pave the way for peaceful negotiations and the 2023 elections in Myanmar.
In his regular press conference early this week, Chinese Foreign Ministry Spokesperson Mr. Wang Wenbin expressed China's support for Cambodia as the rotating chair of ASEAN in resolving the political conflict in Myanmar.
"China will fully support Cambodia, the rotating chair of ASEAN, in playing an active role and making important contribution to properly managing the differences among parties of Myanmar through political dialogue and restoring stability and achieving development at an early date," he said.
Cambodian Prime Minister Samdech Akka Moha Sena Padei Techo Hun Sen made a two-day visit, on Jan. 7-8, to Myanmar and met with H.E. Senior General Min Aung Hlaing, Chairman of the State Administration Council and Prime Minister of the Republic of the Union of Myanmar.
On the occasion, H.E. Senior General Ming Aung Hlaing has agreed to extend the five-month ceasefire with all Ethnic Armed Organisations (EAOs) until end of 2022, and welcomed the participation of the Special Envoy of the ASEAN Chair on Myanmar to join the ceasefire talks.
As the ASEAN Chair, Samdech Techo Hun Sen continued proposing more initiatives to achieve peace and further development in Myanmar.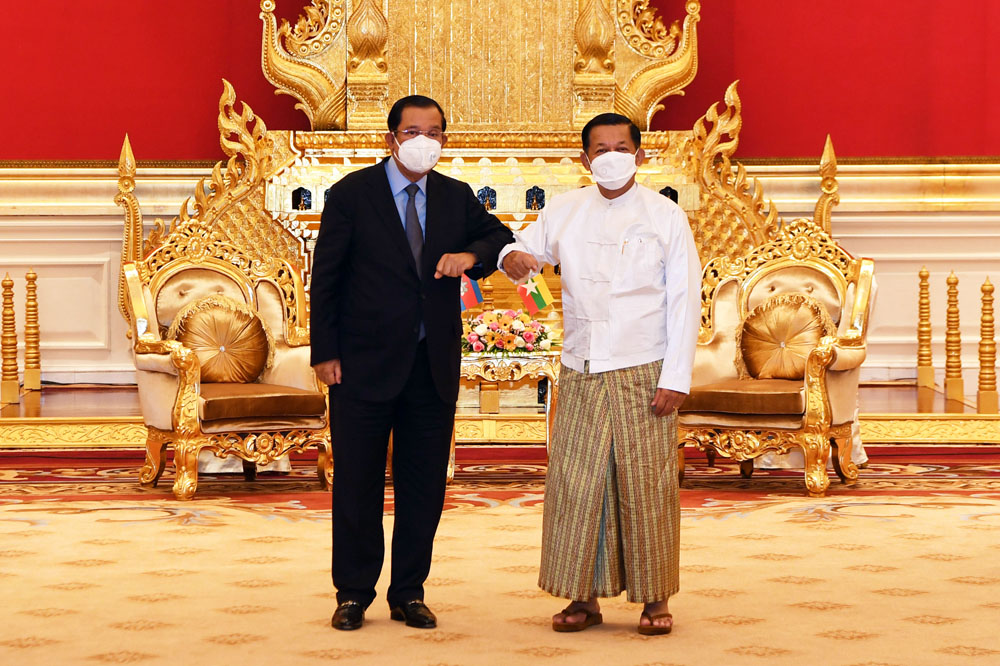 By C. Nika