Book by Ex-journalist, Scholar Reveals New Cambodia Shapes Old Love, Domestic, Foreign Policy
AKP Phnom Penh, September 15, 2020 --
Ek Tha's semi-autobiographical novel Long Love, Short Life, is a worthy addition to the literature of post-Khmer Rouge Cambodia – a nation struggling to recover from the horrors of the insane Pol Pot-led genocide regime, to come to terms with its immediate past, trying to revive its shattered traditional cultural mores and identity and adjust them to the new reality and its challenges to prevailing social norms.
Ek Tha's own journey, from refugee to journalist, and now a spokesperson for the Royal Government of Cambodia, his travels overseas, give him a unique perspective from which to reach out to and inform both Cambodian and foreign readers, in a naïf style that takes us from innocence to knowledge and, finally, acceptance.
Set in in the aftermath of the overthrow of Pol Pot by Vietnamese and Cambodian volunteers, with the countryside still infested by Khmer Rouge rebels, Long Love, Short Life, tells the story of Duongchan, a young provincial girl struggling against poverty to complete her education, and her classmate, Dara, son of a middle-class business family.
It is a time when the U.S. imposed sanctions against providing aid to Cambodia, as part of the Cold War, which were to last for a decade.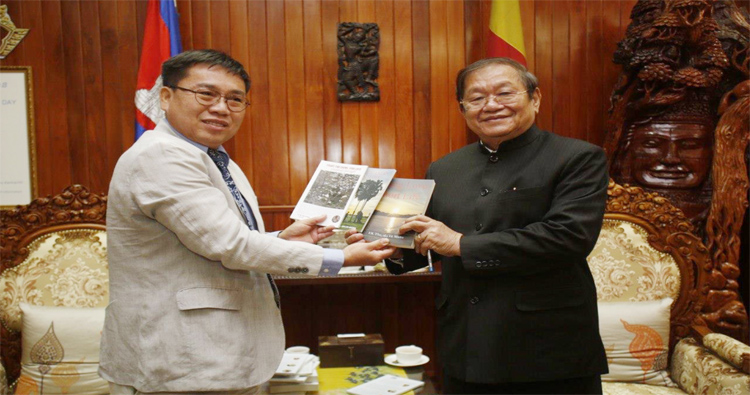 (The author Ek Tha (left) provides his books to H.E. Dr. Khieu Kanharith, Cambodia's Minister of Information)
Significantly, it is when Duongchan's bicycle chain breaks in the midst of a downpour that she meets Dara. The bicycle not only links her to her modest family home but to her future through education. It is Dara, with his technology, who offers protection against the threat of the Khmer Rouge raiders who still attack villages in the countryside and, in a sense, protects Duongchan's future.
Their love must survive the trials culture and tradition, and the strict conservatism of the new Vietnam-supported regime of Phnom Penh. They dream dreams and make plans, but their world is changing, driven by the winds of fate and fortune, and like Cambodia and its people, Duongchan and Dara must adjust to the new reality and its sometimes tragic consequences. It is a love that conquers death itself. Inspired by the author's own experiences, Ek Madra, aka Ek Tha, follows their lives over the next quarter century with charm, humour, poignancy and sharp insight into human nature and the forces that impact on Duongchan and Dara as they mature. He draws on the remarkable character of the Cambodian people to accept change with equanimity whilst holding hard to their deep and ancient roots of tradition. It is a uniquely Cambodia story. And it is, in so many ways, the story of Cambodia.
Ek Tha is a scholar in his own right and author of the non-fiction work The Factors Contributing to Cambodia's Civil War 1950s- 1980s; Lessons Then & Now. Scholarship, history books and papers, can describe and explain events but can rarely share the experience of being there, what it felt like to be buffeted by forces outside one's immediate control. They tend to discuss the whys and wherefores of major players but by doing so cannot touch on the subjective and the emotional, the impact on the hearts of those affected.
There are biographical accounts of the period, like Long Ung's First They Killed My Father, which largely focus on the individual's personal experience rather than the bigger picture of cultural conflicts within the society itself.
Ek Tha, by using the novel genre, gives us a wider angle on the impact on the ordinary Cambodian, filling in the gaps between scholarship and biographical experience.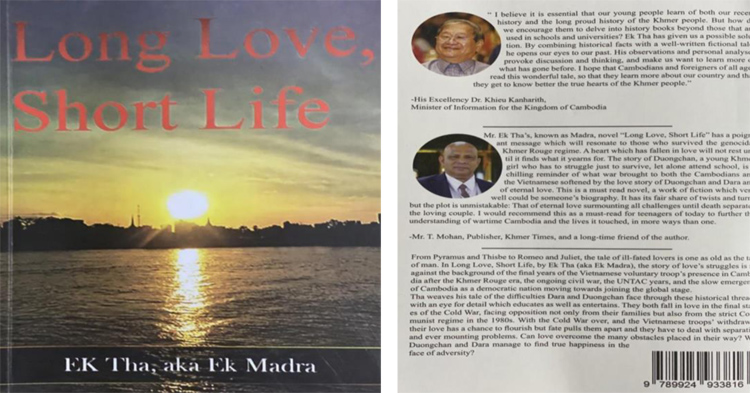 Long Love, Short Life has much common with H. Arlo Nimmo's Songs of Salanda and Other Stories of Sulu, written by an anthropologist who lived with the Badjau Laut maritime nomads for two years. Nimmo felt that his anthropology papers were limited and that he could only share a deeper truth by fictionalising he own experiences. Ek Tha's book takes the same course, giving us a greater understanding of what it was like to be on the ground, a sense of tristesse towards a lost past, an acceptance of the present, and the potential of a future.
Eventually the Cold War ends, and Vietnam's troop leaves. The now-married lovers are in their 30s and have a daughter, Sakura, bringing with it a new Cambodia and a host of temptations, stresses that drive Doungchan to drugs and alcohol. Poverty and natural disasters add to the faltering relationship. In an argument, Doungchan tells Dara "There are billions of stars out there but I picked the wrong one." There is a layer of meaning here: Dara, a very common name in Cambodia, means "star" in Khmer while Duongchan translates as "moon" a body that needs a star in order to shine.
Again, this mirrors the Cambodian experience voiced by Dara who "...had long thought that globalisation will bring prosperity to his wife Duongchan as well as to all Cambodians but instead it brings more troubles than prosperity."
Unlike Western romances, there is no deus ex machina to put everything right. No comforting re-establishment of the status quo. No act of masculine individualism to force the fates to retract their influence. We must accept and move on.
Yet, for all that, Dara's love for Doungchan remains strong over the decades that follow, into the 2000s. It does not die.
It is a journey that teaches us much about Cambodian culture, old and new, and the forces that impinge on a nation recovering from its almost absolute destruction. It covers, too, the pressures on the country's foreign relationships.
A philosopher once wrote: "Men make their own history, but they do not make it as they please; they do not make it under self-selected circumstances, but under circumstances existing already, given and transmitted from the past." The past is at once a curse on progress yet an anchor, a foundation upon which to build a future.
That, perhaps, is the underlying message of Long Love, Short Life. It is a novel that will be a worthy addition to the literature of, and about Cambodia.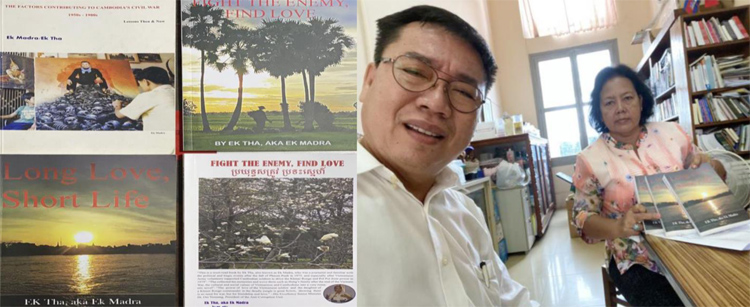 (Ek Tha is also the author of the non-fiction, the Factors Contributing to Cambodia's Civil War 1950s- 1980s, lessons Then & Now. I penned another novel, Fight the Enemy, Find Love.)
Long Love, Short Life is more than just romance that covers more than 60 per cent of the author's anecdotes and his family's episodes but reveals how Cambodia has been shaped by the globalisation in many contexts. It is, perhaps, one of the best approaches to weave the disparate elements together as essential ingredients which intrigue a global readership, enabling them to learn more than just about the life and love of Cambodia at a time of civil war, but also helps to better understand the complex issues of a nation in flux, mainly through the conversations of the couples, daughter, relatives.
It has been said that the traditions of all dead generations weighs like a nightmare on the brains of the living. If we do not learn from the past those nightmare will return for future generations. It is It is Ek Tha's objective is that, through this novel, people learn well about their own country's past lessons and experiences so that new generations will not repeating the bad ones.
Those who read Long Love, Short Life would do well to learn the lessons of its narrative and take them to heart.
By Bob Couttie
--- Mr. Bob Couttie is a British historian, film-maker, broadcaster and journalist. He is author of Hang The Dogs: The True Tragic History of the Balangiga Massacre, and Temple of the Leper King, a detective novel set in Cambodia, as well as several plays. He shares his time between Cambodia and the Philippines.