Op-ed: The Author's & Publisher's Statement on the Book "Long Love, Short Live"
AKP Phnom Penh, August 31, 2020 --
By Ek Tha
First of all, I'd like to make it clear that all statements of fact, opinion, or analysis expressed are mine alone and do not reflect in any way the official position or views of any Royal Government of Cambodia's institutions with which I am affiliated. Nothing in the contents should be read as asserting or implying the Royal Government of Cambodia's authentication of information or endorsement of my views.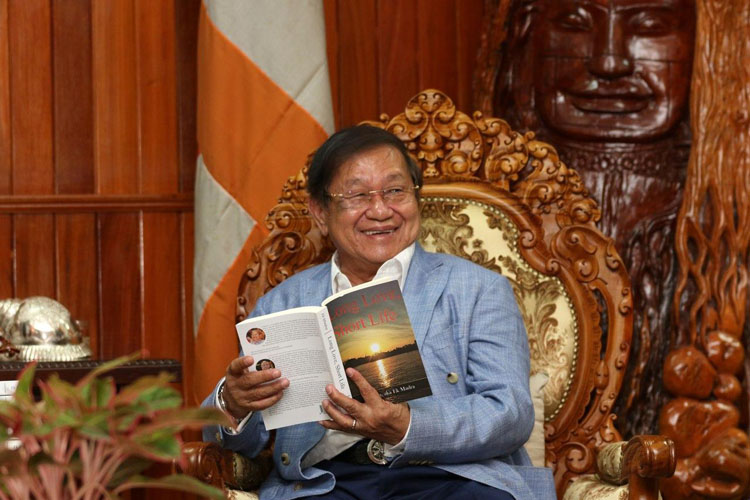 (His Excellency Dr. Khieu Kanharith, Minister of Information, reads the book)
There are stacks of non-fiction books published about Cambodia written and published by foreigners with lots of their information based on listening to local interpreters and documents in Khmer. Although some of these writers understand or speak Khmer, I do not believe foreign writers get the subtlety of the Khmer language as it is spoken, historically or today, especially colloquial usage such as slang, idioms, and even the body language. Getting inside someone else's cultural mind-set is a challenge and I appreciated foreigners for their efforts.
I noticed that the culture of reading has inclined over the years. Some readers are bored with dry solid historical texts that speak without heart or a sense of wonder; others skip the dry facts entirely. Neither approach gives us the taste, the touch, the essence, the internal sensation of living in those times, the ambience of being there.
Those trends inspired me to write this novel at this moment in time. Today we have a new Cambodia built on old land. We have enjoyed full peace since late 1998 and since then there has been much forgetting, new generations forgetting their roots in old land in the rush towards a brave new world and its challenges.
I want the Cambodian people not to forget their past suffering, losses, sorrowfulness, and their loved ones. But, unless we learn how to remember and forgive, and accept that reality, then those of us who experienced it first hand, and the new generations for whom it remains an elusive, unexplored, inexperienced part of their spirit, we can never achieve the closure needed to heal the scars we cannot see and become whole again as a people.
As a Khmer son of this beloved South-East Asian nation, I must play my part as an author so that Cambodia itself, especially its younger generations and those to come, as well as foreigners learn more about the elements, such as the external factors, that influenced Cambodia's domestic politics and finally drove this nation into an abyss of factional fighting and wars, one after another, that lasted for more than 30 years.
I have no magic power to change the past, but I have full rights and freedom to pen them so that we can avoid making the same mistakes and to position our nation better in the future.
When I started writing this novel, I couldn't forget the people who shared with me their narratives from 1970s to 2000s. They all have different backgrounds and they shared with me their past suffering and other experiences.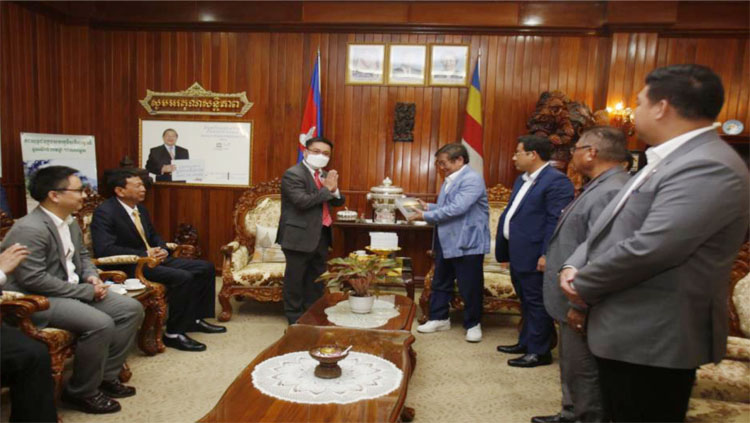 (The author handed over the books to His Excellency Minister Dr. Khieu Kanharith)
I wrote and published a historical book about my country's tragic past, still I did not believe that was enough. Another form of narrative was needed to bring the dry facts to life in a way that gives the reader a personal, visceral involvement with those events. I want younger generations to learn their country's past and how they can built on that 'old land' to better position better their country when it comes to political decisions affecting the life and death of the nation and the people.
When I penned this novel, I could not ignore the parts of Cambodia's culture, traditions, war and the wealth, the seeds and roots that lay within that 'old land, given the fact that they are such great ingredients which much influenced the people's life and loves.
It is very important for us Cambodians to understand past experiences so we might learn to avoid repeating the bad and build upon the good. I therefore wanted to share my experiences—through this novel—to intrigue readers to learn and join hands to build this beloved nation to enjoy the hard-earned peace and developments that came with it.
Nothing is more valuable, beautiful, sweet, and wonderful than life and love in this world. You can buy many things, you name it from A to Z, but life and true love. I would like to see people to be grateful to those who helped them during the hardship and to see and treat each other as friends, not foes.
This is what awakened me to pen novels one after another, I believe, intriguing readers through the fictions I transformed from historical facts into colourful romance, angry, funny, sorrows, worries, fears, sadness, angry, horrifying, happy, and weave them along with culture and traditions, among other issues. This novel would not be complete or honest without combining Cambodia's domestic politics, its foreign diplomacy that played roles in contributing to the changes of Cambodia's ups and down and ups again.
That is why I portrayed Cambodia's school girl and boy in their 20s, during the Cold War era, to tell their personal anecdotes and what went wrong with their country, families, society as a result of the wars.
I had no difficulties writing this book because I, myself, went through, or shared, those experiences with friends and the people of Cambodia where I lived and worked.
I even weave large amount of my personal narratives and ex-girlfriend's records from the Cold War era, post-War, new Cambodia on old land, among other influences—into this book.
Certain names and identifying characteristics have been changed but the contents of the narrative values remain. There are always good and bad experiences, like shadows, that continued to haunt my life and my girlfriend's even after the armed conflicts ended in the early 1990s as because the country's domestic divisions were yet to be resolved then. So, I reveal what had happened in the 1990s and 2000s during which time I worked as a journalist at the American and Japan-funded English newspaper, The Cambodia Daily, and later worked for Reuters News Agency upon my return from studying journalism in California, USA.
I spent nearly 16 years as a journalist until 2009, work experiences that helped me pen this novel. I am not a film writer or producer, but I did not face any difficulties connecting the past history, such as Cambodia-U.S. ties, to the current developing trends and what those facts mean to Cambodia and U.S. alike while both countries sometimes continue to experience rocky relations.
I expect the audiences—after the reading my book of 20 chapters—will have more positive, nuanced points of view and values rather than just hearing the same dark page over and over about Cambodia's wars and strategies because there are also a lot of positive sides out there to offer, such as the country's bountiful of natural resources and its rich in cultural heritage, and smiles, and much more.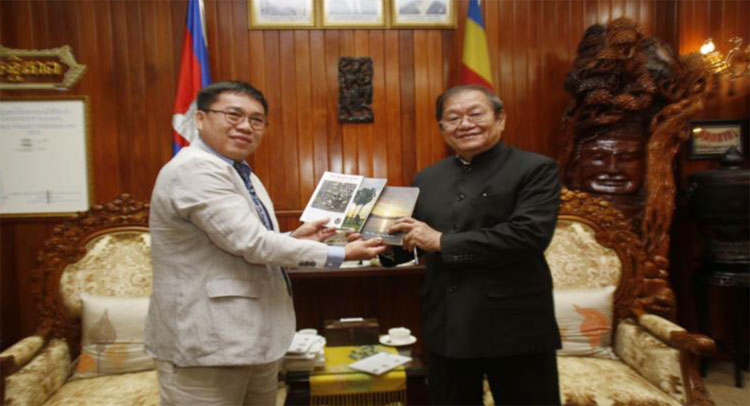 I am also the author of Factors Contributing to Cambodia's Civil War 1950s- 1980s, lessons Then & Now. I penned another novel, Fight the Enemy, Find Love. All publications are in English and will be soon available in Khmer version.
[I currently work, under name Ek Tha, as a spokesman of Office of the Council of Ministers, advisor to the Ministry of Information, Standing Vice-Chairman of the Royal Government Spokesperson Unit. Ek Madra is the name I used when worked for the United Nations/ UNTAC in 1993, The Cambodia Daily, studied in USA, Japan, others, Reuters News Agency]