ASEAN, FIFA Sign Cooperation MoU
AKP Phnom Penh, November 03, 2019 --
The Association of Southeast Asian Nations (ASEAN) and the Fédération Internationale de Football Association (FIFA) signed a Memorandum of Understanding (MoU) on cooperation in the field of football, after the Plenary Session of the 35th ASEAN Summit in Bangkok, Thailand yesterday.
Secretary-General of ASEAN Mr. Dato Lim Jock Hoi and FIFA President Mr. Gianni Infantino inked the MoU in the presence of the ASEAN Heads of State/Government, including Cambodian Prime Minister Samdech Akka Moha Sena Padei Techo Hun Sen.
According to the ASEAN Secretariat, the MoU marks the establishment of a formal cooperation between the two entities to leverage the roles of football in social development in ASEAN.
Secretary-General of ASEAN Dato Lim said, "football – and sports in general, is indeed a strategic means for promoting greater people-to-people connectivity and binding ASEAN stronger as One Community. Through this MoU, ASEAN looks forward to a stronger football and sporting community in the region that builds on our unique regional identity and sense of community."
The MoU will guide ASEAN and FIFA in finding synergies and placing football as a catalyst for social development, including through promotion of healthy lifestyles and values of sportspersonship in the ASEAN Community building process.
There are four areas of cooperation under the MoU: promotion of sports integrity, sports for development, FIFA's Football for Schools Programme, and professional capacity building.
Making football more accessible to children, child safeguarding in football in line with the ASEAN Regional Plan of Action on the Elimination of Violence against Children, as well as expanding opportunities for coaching and life-skills development through football are among the core activities under this cooperation. Other focus areas will also lead to awareness raising on clean and fair sports plays, anti-doping as well as advocacy for inclusive participation of women and persons with disabilities in football.
Consistent with its FIFA 2.0: The Vision for the Future, FIFA has formalised its engagement in collaborations with various international institutions, such as the G20, the Council of Europe, the African Union, the Agence Française de Développement and a number of UN agencies.
President Infantino said, "it is a great personal satisfaction to announce the signing of this strategic alliance with ASEAN. Since the beginning of my presidency I have had the chance to visit the region on many occasions and each time I was struck by the passion our sport generates among the people. Through the collaboration we are launching, we want to build on this passion and use football as a vector of social development, integration and sporting values across the entire region."
At the end of the signing ceremony, the FIFA president offered to each ASEAN Heads of State/Government a football shirt with their respective names on it, and they took photos together.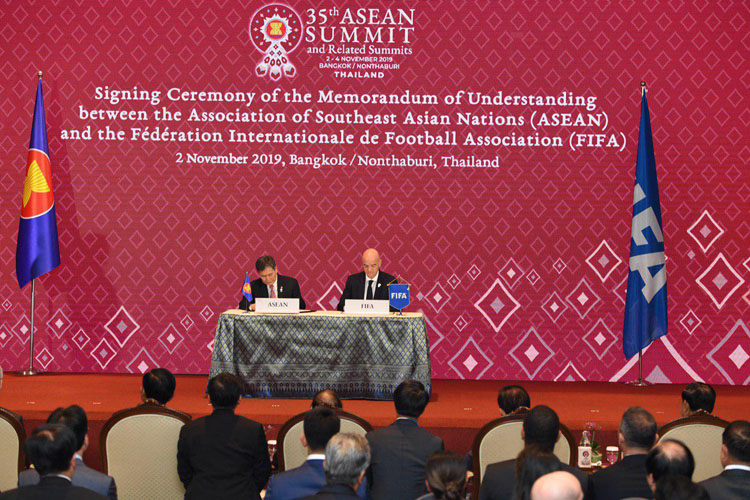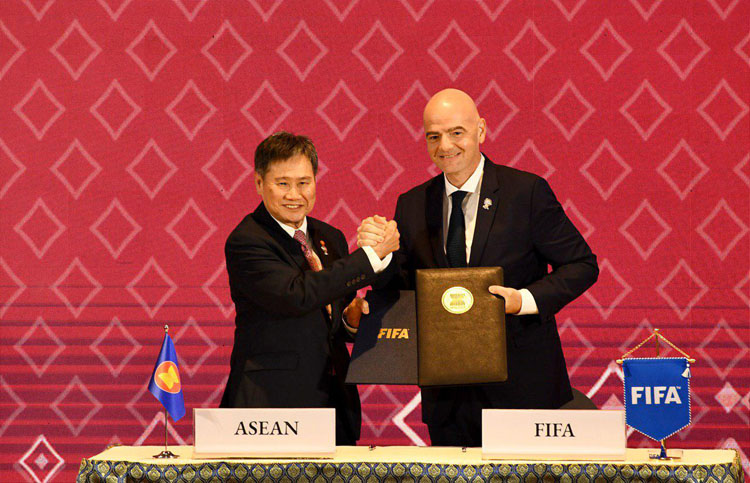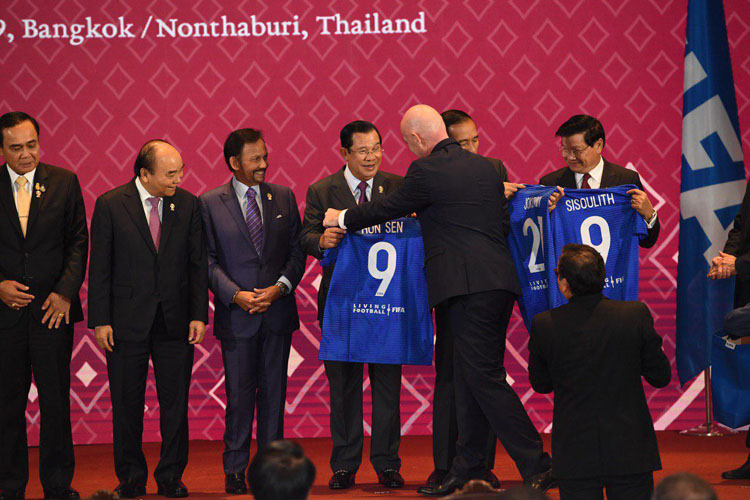 (Photo: TVK Special Correspondent)
By Khan Sophirom