Boeung Yeak Loam Among the World's Most Beautiful Crater Lakes
AKP Phnom Penh, December 24, 2018 --
Boeung Yeak Loam of Cambodia has been recognised as one of the 15 Most Beautiful Crater Lakes in the world by Earth Porm.com.
"This crater is located in the dense rain forests of Cambodia. 4,000 years ago a violent volcano created this 157 foot deep lake which holds clean and clear water," it said.

Located in Yeak Loam commune, Banlung district, Rattanakiri province, northeast of Cambodia, Yeak Loam Crater Lake is about 800 metres in diametre and 48 metres deep.
Other World's Most Beautiful Crater Lakes include Mount Mazama, Oregon USA; Albertine Rift, Africa; Mount Pinabuto-Luzon, Philippines; Quilotoa, Ecuador; Kelimutu, Flores Island, Indonesia; Heaven, Baekdu Mountain- China, North Korea; Licancabur, Chile; Main Crater Lake at Vulcan Point, Taal Volcano-Luzon Philippines; Crater Lake, Mount Katmai-Alaska, USA; Vit Geothermal, Askja-Iceland; Kerid, Iceland; Deriba, Jebel Marra-Durfur, Sudan; Mount Ruapehu, New Zealand; and Okama, Mt. Zao-Honshu, Japan.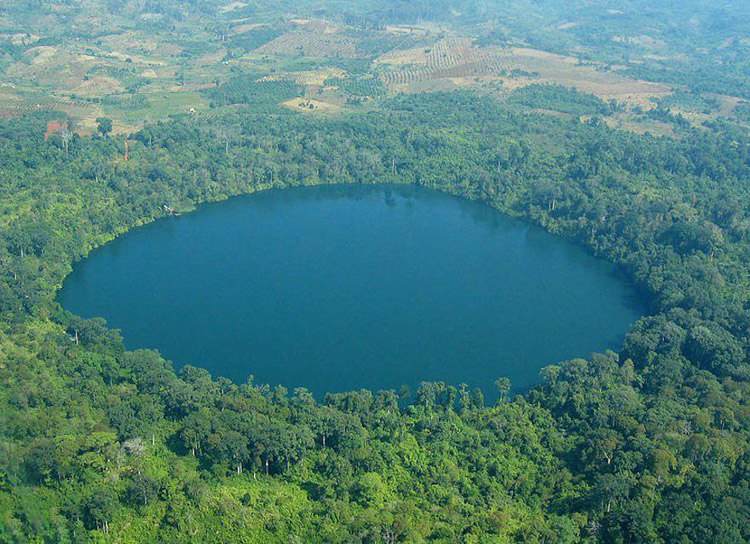 (Photo: Earth Porm.com)
By So Sophavy