Cambodia, China to Further Promote Bilateral Ties
AKP Phnom Penh, October 12, 2020 --
Cambodian Deputy Prime Minister H.E. Hor Namhong received visiting Chinese State Councilor and Foreign Minister H.E. Wang Yi, in Phnom Penh on Sunday evening to discuss bilateral cooperation and relations.
H.E. Hor Namhong profoundly thanked China for assisting Cambodia on many projects which have contributed to the socio-economic development in the Kingdom.
The Cambodian deputy prime minister also mentioned the China-funded projects to be implemented in the near future, including Stung Prek Tnot irrigation and flood protection project and expansion and improvement project of National Roads No. 41, No. 33 and No. 31.
On the occasion, H.E. Hor Namhong asked the Chinese side to help solve the problem of China's COFCO, which is a barrier for the import of 400,000 tonnes of Cambodian rice, and push for the import of Cambodian mangoes and fish already agreed by both sides, as well as buy more agricultural products from Cambodia such as pepper, durian, white sugar, logan (Ta-ngen), etc.
In addition, H.E. Hor Namhong requested the Chinese side to encourage Chinese investors to transfer more factories from China to Cambodia.
The two sides also discussed about mutually beneficial cooperation between Cambodia and China covering almost all areas.
For his part, H.E. Wang Yi said China will continue to help Cambodia in the fight against the pandemic, including the provision of China-developed COVID-19 vaccines on a priority basis.
Cambodia and China will promote development of bilateral ties in the post-pandemic era, and expand cooperation in other fields, he underlined.
China will import more quality Cambodian agricultural products as requested by Cambodia, he added.
Cambodia and China are about to sign a free trade agreement, Cambodia's first FTA with a foreign country, which will not only promote bilateral trade, but also contribute to help Cambodia address the challenges in the post-pandemic era.
H.E. Wang Yi is on a two-day official visit in Cambodia, from Oct. 11 to 12.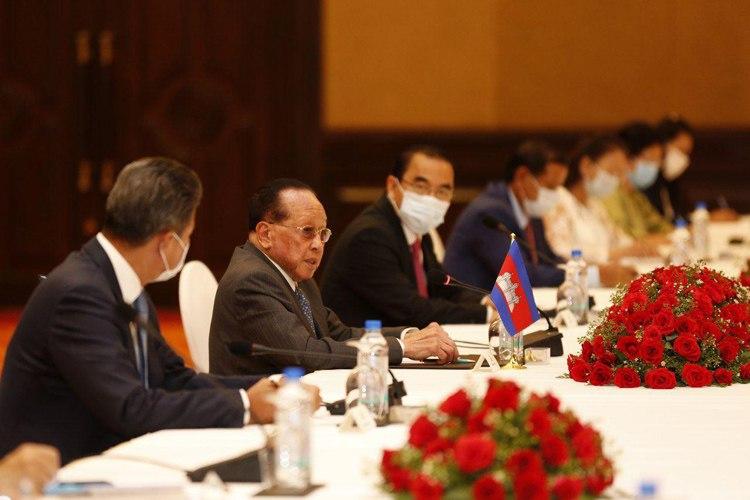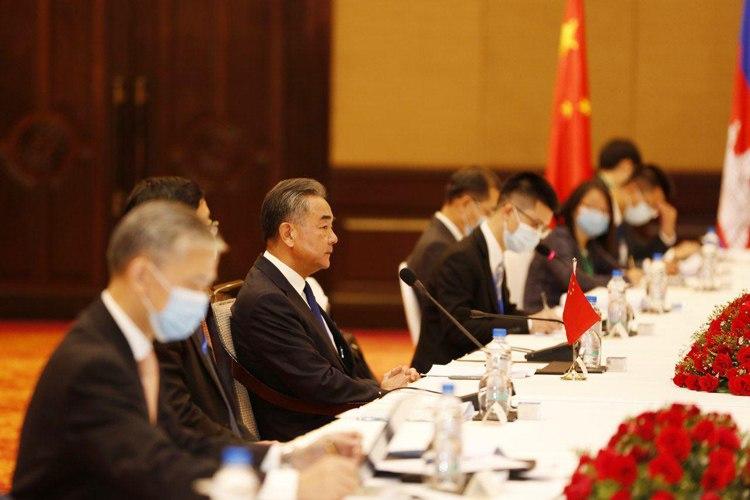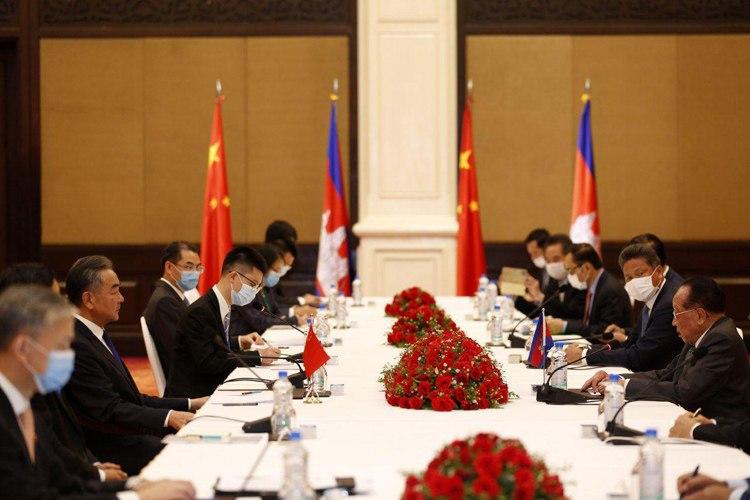 (Photo: Khem Sovannara)
By Chea Vannak