Nuon Chea and Khieu Samphan Sentenced to Life Imprisonment in Case 002/02
AKP Phnom Penh, November 16, 2018 --
Today, the Trial Chamber of the Extraordinary Chambers in the Courts of Cambodia (ECCC) convicted former senior Khmer Rouge leaders Nuon Chea and Khieu Samphan of genocide, crimes against humanity and grave breaches of the Geneva Conventions of 1949, said the ECCC in a press release.
The crimes were committed at various locations throughout Cambodia during the Democratic Kampuchea period from April 17, 1975 to Jan. 6, 1979.
The Trial Chamber announced a summary of its findings and the disposition in Case 002/02 at a public hearing held on Nov. 16, sentencing the Accused, Nuon Chea and Khieu Samphan to life imprisonment. The Chamber will deliver full written reasons for its judgement in due course.
Evidentiary hearings in the trial of Case 002/02 commenced with opening statements on Oct. 17, 2014 and concluded on Jan. 11, 2017. The trial, including closing statements, lasted for a total of 283 hearing days. During the trial, the Chamber heard the testimony of 185 individuals: 114 witnesses, 63 Civil Parties and 8 experts. The trial was subject to considerable public interest, with 82,780 persons attending the hearings.
The Chamber's Main Findings
The Trial Chamber found that Nuon Chea, Deputy Secretary of the Communist Party of Kampuchea (CPK) and Khieu Samphan, the Head of State of Democratic Kampuchea, participated in a joint criminal enterprise together with other senior leaders of the CPK, with the purpose of implementing a rapid socialist revolution, which involved the commission of crimes.
Nuon Chea and Khieu Samphan were convicted of committing, through participation in a joint criminal enterprise: genocide of the Vietnamese ethnic, national, and racial group; various grave breaches of the Geneva Conventions; and the crimes against humanity of murder; extermination; enslavement; deportation; imprisonment; torture; persecution on political, religious and racial grounds; and the other inhumane acts of attacks against human dignity and through conduct characterised as enforced disappearances, forced transfer, forced marriage and rape within the context of forced marriage. Both Accused were also convicted of aiding and abetting the crime against humanity of murder at worksites, cooperatives and security centres.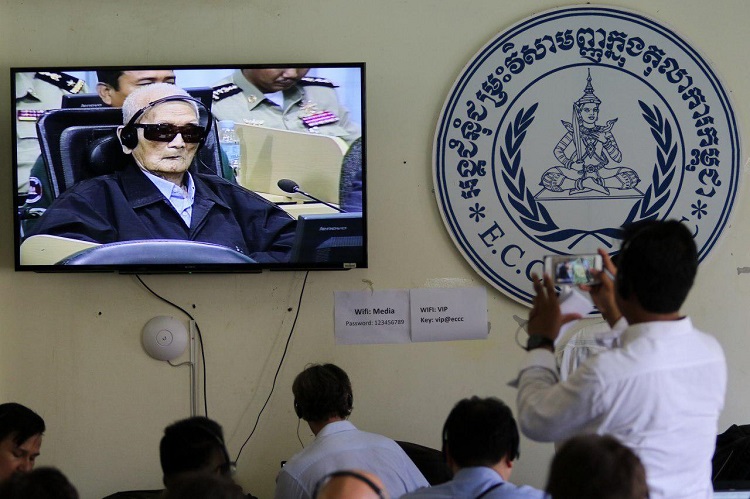 Nuon Chea (Photo: Khem Sovannara)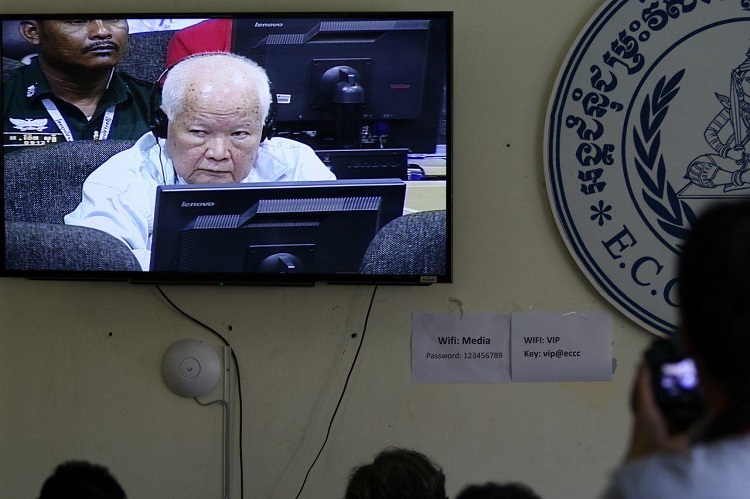 Khieu Samphan (Photo: Khem Sovannara)
By Khan Sophirom